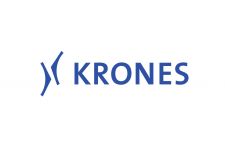 Krones Spotlight
Krones has been a member of FBPC since 2016, making it one of the first members to join the consortium. The company was founded by a German entrepreneur Hermann Kronsedar in 1951, the engineering company built labeling machines in Neutraubling, Germany. The original model found its success in the German beverage market from his steel machine design, with an intermittent motion. The semi-automatic machines functioned by hand placing a bottle into the machine into the fixed grove, then the machine counterpart rotating with glue and press to adhere the label outputting 1,500 bottles per hour. This new technology allowed businesses to become more efficient and produce more products faster. 
Krones in North America were established in 1973. The Milwaukee area attracted the Germans not only because of the sufficient German population but as well as Milwaukee held the title of being the Machine Shop of the World. With a new location south of Milwaukee (Franklin), it provided the company with the resources to be innovative and continue the growth they have been seeing. With manufacturing in the same country as customers, Krones is put at an advantage if ever faced with supply chain issues as well as eliminating secondary cost exporting overseas. To accommodate its fast growth, Krones added a 45,000-square-foot expansion to the manufacturing and assembly area, bringing the facility to 232,000 square feet. 
Krones offers manufacturing machines and complete lines in the fields of processing, filling, and providing packaging technology for food and beverage industries. A newer product line the stretch blow molder in 1997 was a successful milestone. The blow molder is a highly competitive market and is seen from plastic water bottles to 2L soda bottles. With currently over 16,000 employees worldwide, and more than 100 sites, Krones can reach company focal points and exceed customer expectations such as providing immediate round-the-clock assistance and support, thanks to their strong international network of employees. The Krones Team is innovative, collaborative, and strategic when working directly with its customers' needs. Krones products are supplied through an online shop and marketed to customers directly. The marketing department works for hand in hand with the customer and with their advanced technology, customization is achievable in molding, labeling, and more. Being reliable and reaching a high-quality result is paramount for Krones working with numerous prototypes test and quality checks. To Krones, quality is not just the physical result, but instead a thorough process. The connection with customers, the service, and the all-around experience given to customers make Krones stand out in comparison to other competitors. 
In the last decade Krones has put strong efforts into contributing to bettering our planet and doing their role to promote and reach sustainability. The company uses a closed-loop system, named PET bottle-to-bottle recycling for plastic packaging which allows for a sustainable and profitable business approach. The bottle-to-bottle recycling process is one of many ways they're proactively working at this company value. The process operates at peak performance using low processing temperatures combined with minimal energy. Finished PET is blended with virgin PET material forming new beverage bottles to save valuable resources. 
Challenges are inevitable for all businesses. For Krones, the chip shortage and seeking new employees appeared to be hindrances. However, starting from a business with a team of five, to where Krones is today, Krones is persistent to reach goals of growing the business by increasing manufacturing in North America as well as continuing its emphasis on sustainability.