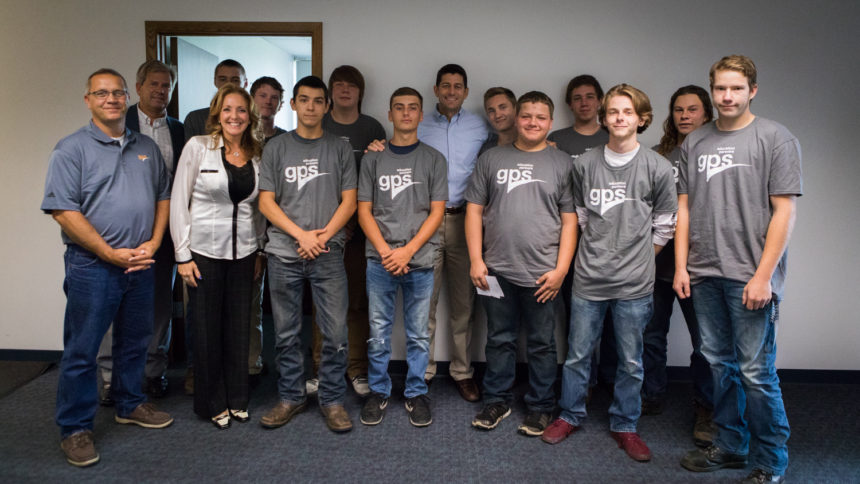 Can Workforce Development Close the Skills Gap?
(Adapted from article in Industrial Machinery Digest) – In an effort to close the growing national skills gap, some manufacturers are taking it upon themselves to generate their own talent pipeline by partnering with local school districts, community colleges, and nonprofits in the form of technical training programs designed to fill badly needed manufacturing positions and give the next generation a better shot at the American Dream.
Why Manufacturers Benefit From Technical Training Partnerships
Technical training partnerships generally consist of programs designed to provide high school students with manufacturing technical skills, while simultaneously connecting them with local manufacturers in their area to obtain hands-on instruction and build relationships with potential future employers.
In order to see how these programs actually operate, we can take a look at a real-world example of a technical training workforce development program in action. Milwaukee-area machined parts manufacturer, Allis Roller, has decided to take a more active role in closing the skills gap by partnering with GPS Education Partners, a Wisconsin-based Department of Workforce Development Youth Apprenticeship Program. The nonprofit has been linking area manufacturers with local educational institutions since 2000, allowing high school students to obtain tuition-free technical training while working at local manufacturing companies.
Allis Roller is one of several enthusiastic program participants allowing local high school students to take technical training classes at their facility while working as apprentices for the company. The technical training classes offered at Allis Roller are part of a curriculum created by GPS, which is designed to fit into existing secondary education requirements. The time student program participants spend outside the classroom on Allis Roller's shop floor provides them hands-on experience with CNC Machining, welding, and complex machined parts manufacturing. By the time they graduate high school, these student-apprentices are immediately employable in well-paying manufacturing jobs and receive a MSSC Certified Production Technician Certificate.
So what are the benefits for Allis Roller in contributing resources towards the education of teenagers? The most important benefit to manufacturers seeking to build up the national talent pipeline is exposure. Currently, 94% of high school students report that they are uninterested in manufacturing careers due to a lack of exposure to the field. However, more than 80% of GPS program graduates end up pursuing technical careers and 62% are employed in manufacturing once they have learned what the industry has to offer them.
According to Troy Wolfson, a GPS program graduate, he learned about the training opportunities available through the GPS-Allis Roller Partnership after a friend "spoke highly of the program." Though Wolfson had never previously considered a career in manufacturing, the experience he gained at Allis Roller has peaked his interest in global manufacturing, and now he intends on seeking out additional education and career growth opportunities in the manufacturing industry. The more manufacturers pair up with their local education systems to provide technical training to students, the more they help to build up a talent pipeline that the entire community of US manufacturers can collectively benefit from. Individual investment on the part of manufacturing businesses is essential, because protecting the future of American manufacturing is going to take a village.
Neither the student nor the manufacturer are obligated to continue their relationship after the program concludes, but the manufacturer is free to hire students full time when they complete the program. That creates a mutually beneficial model where essentially there is an extended trial for both parties; students get to know the company, companies get to watch a student learn and grow. For manufacturers struggling to fill skilled positions and attract talent, mentoring students through technical training programs may help them train and retain a skilled workforce more efficiently than existing recruitment strategies.
Some manufacturers may not quite be sold on the reliability of high school students working in their shop, but keep in mind, students taking advantage of these training programs are unusually driven. Tom Broeker, Troy Wolfson's mentor at Allis Roller, had this to say about what it was like to work with him:
"When I first interviewed Troy I was impressed by his demeanor for being a high school student. Troy maintained good grades while working and never complained about the tasks he was given. He learned very fast and worked hard. He is certainly a shining example for the GPS Program."
Kids like Troy are already planning for their future, and they fully understand that the manufacturers they're working for can help launch their future. As a result, behavioral issues are rarely a problem.
Allis Roller doesn't solely focus on high school students. In addition to their partnership with GPS, Allis Roller also works with Milwaukee Area Technical College (MATC) to provide further technical training for existing employees. Herik Lopez, a current employee with Allis Roller, is already seeing benefits on the floor from the additional training he and his team have received:
"This training has helped the CNC department by giving them the ability to learn more skills and understand the Manufacturing processes. This has helped Allis Roller by making employees more productive in using the skills they learned in the training."
These efforts help provide upward mobility to motivated employees and a more cohesive workforce. Classes include learning software, technical skills, supervisory skills, and more. Enhanced morale and motivation absolutely have a measurable impact on the overall success of a manufacturing company, and improve the quality of one's existing workforce.
The Future of Technical Training Partnerships
These partnerships don't just prime the entry-level pipeline. The exposure to various manufacturing jobs broadens students' views on career prospects they may not have otherwise considered. Take it from Wolfson, who plans to go to a four year university with aspirations to work his way up the ranks in international manufacturing:
"GPS has benefited me in a numerous amount of ways. It gave me exposure to a job field I never thought I would work in. It taught me the satisfaction of a hard day at work and many responsibilities that go along with it. In the classroom, GPS taught me many things about the trades including blueprinting, processes, and safety in the workplace. I would recommend GPS to students who are interested in the trades because it gives you a head start getting into the trades."
While beginning any program can be daunting, Allis Roller has found it worth the effort, and several neighboring companies in the Franklin Business Park have followed suit. The Franklin Business Park Consortium has made workforce development one of its pillar initiatives, and these types of programs are high on their radar. These participating companies see what GPS Education Partners has known for years – this type of technical education is the answer to the nation's skills gap. With more companies coming onboard each year, GPS has aggressive growth goals. There are about 200 participating students this year, but they are on track for that number to be 1000 in three years, and their goal is to reach ten thousand by 2028.
Though closing the skills gap and attracting talent remains a daunting prospect, it's becoming increasingly apparent that individual manufacturers will have to start their recruiting efforts long before they need to fill a position in order to get more students interested and qualified to enter the industry. Companies like Allis Roller have figured that out, and their participation in technical training partnerships with GPS are just one example of how the manufacturing industry can compete with white collar industries for the future generation's labor force. After all, universities spend countless resources recruiting and attracting students. With the right strategy, manufacturers can cut through the lure of campus life by showing that technical training provides just as much of a promising future.